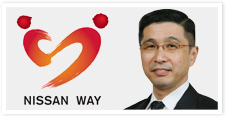 We love what we do. This passion filters into all aspects of our work, and is demonstrated by our commitment to the NISSAN WAY.
This is our corporate DNA that frames our thinking (Mindset) and guides our professional behavior (Actions).
It's how we drive new ideas and challenge ourselves to bring about market breakthroughs and create value for both our customers and business. It's also how we recognize and reward professional performance.