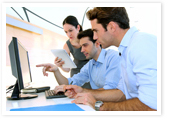 At Nissan, we are committed to becoming the most innovative, trusted, and environmentally responsible car company in the world. To do this Nissan relies on two things: world-class people and innovative vehicles. The innovative thinking that has propelled Nissan and Infiniti vehicles to the forefront of the automotive industry, is also propelling the development of our most valuable resource…our people.
Today's business climate encourages, a culture of life-long learning. The Nissan culture, and leadership heartily supports this belief with a wide breadth of choices and opportunities for continued professional growth, through diverse development programs and training opportunities.
We recognize that you arrive with proven knowledge, skills and experience which will be actively enhanced throughout your career at Nissan.
Nissan provides many Training & Development opportunities for all employees from new hire to seasoned professional, covering a wide range of technical topics and leadership skills from Coaching to Listening Skills, Problem-Solving to Project Management.
In addition, we offer many professional development activities including mentoring programs, assessment and feedback, and cross-cultural team assignments.
All professional career development offerings are designed to continue the forward momentum of your career.