Nissan Finds Strength in Diversity
Nissan is diverse at every level with over 42 nationalities represented at our European Headquarters alone.
It's this diverse workforce that makes us interesting. We thrive off new thinking and differing perspectives. That's why we encourage and take full advantage of the mix of backgrounds, genders, nationalities, ages, and lifestyles found among our employees.
This means our people are representative of the unique personalities found within the communities where we do business around the world. This makes us powerful. So if "the power comes from inside", then our diversity defines the strength of that power.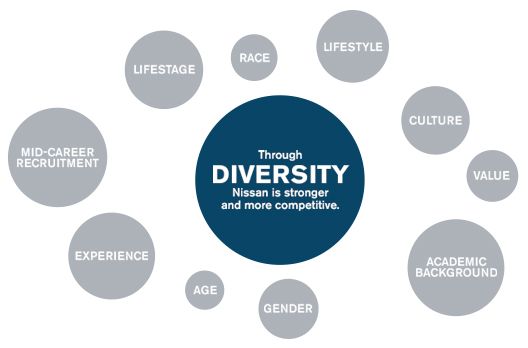 Diversity does not happen naturally, it needs continuous drive. Nissan has a voluntarist strategy and adapted action plans, based on three pillars: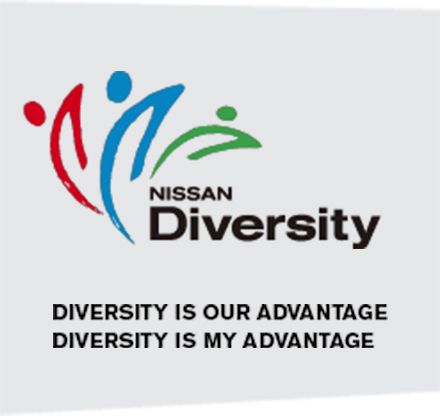 Talent
To attract & retain the total pool of available top talent
Pipelinebuilding recruitment
Grow existing diverse talent
Innovation
Generate greater innovation by stimulating debate & creativity with increased people variety, resources & options
Eliminate career path blockers
Cultural Engagement
Customer
"Putting the Customer central in everything we do" through increased external diversity awareness & action
Diversity 'Buying' Influence
Talent:

We need to attract, develop and retain the top talented people available worldwide.

Innovation:

We encourage the differences to stimulate debate and creativity.

Customer:

In a constantly changing society, we need to better understand our customer's Diverse needs.
Woman's Development
In a male dominated industry, Gender Diversity requires special focus.
Our aim is to be best in class in the Automotive Industry and raise the women representation in top management positions from 16% to 20% over the next 3 years.
So Nissan has developed a set of specific programmes and actions in order to improve women representation in all areas and at all company levels.
Nissan specifically focuses in jobs where women are underrepresented like Engineering or IS/IT.
In line with the law related to gender equity published on 5th September 2018, Nissan publishes its gender equity index enabling to measure potential salary gaps between men and women (index valid in France).

Please find hereafter the gender equity index results for 2022 :
Nissan Automotive Europe SAS : 89 points (results related to the fiscal year of 1st April 2021 to 31th March 2022)
Nissan West : 94 points ( results relative to the calendar year of 1st January 2021 to 31th December 2021)